FST: Addicted To You
Fanmix Title: Addicted To You
Mixer:
perivates
Pairing: Ed/Envy
Warnings: Profanity, sexual references.
Notes: Inspired by
hieronymousb's fic Waste Land. Further notes within cut. [ETA: Follow-up mix can be found here.]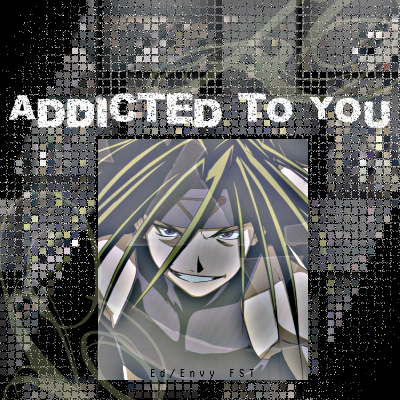 [download]



This fanmix is largely based on
hieronymousb's Ed/Envy fanfic Waste Land (NC-17). This fic is the best portrayal of the pairing I've seen. It's emotionally engaging and wonderfully descriptive; Ed and Envy are characterized exceptionally well, making it easy to sympathize with both of them simultaneously. Even skeptics of the pairing would enjoy this fic, as it keeps Ed and Envy completely in-character. I'd definitely recommend this fanfic to anyone who enjoys long, well-written stories.

1. My World - 3 Doors Down

You're stuck on a chain
And you're towing a lie
Seems like everytime that you catch up
You only fall behind

There is always someone to blame
For the things you do yourself
You think that everything that's going wrong
Is because of someone else



2. Square One - Coldplay

From the top of the first page
To the end of the last day
From the start in your own way
You just want somebody listening to what you say

Under the surface trying to break through
Deciphering the codes in you
I need a compass, draw me a map
I'm on the top, I can't get back

Is there anybody out there who
Is lost and hurt and lonely too
Are they bleeding all your colours into one?



3. Underwater - Vertical Horizon

It's all the same for me, underwater
There's nothing much to see, underwater
I cannot make a sound, but I can listen
I can't tell up from down, now I'm listenin'
I feel your touch, will you pull me up again?



4. Control - POE

Surprised you to find that I'm laughing?
You thought that youd find me in tears
You thought I'd be crawling the walls
Like a tiny mosquito and trembling in fear

This is beginning to feel good
Watching you squirm in your shoes
A small bead of sweat on your brow
And a growl in your belly you're scared to let through



5. Feel Good Inc. - Gorillaz

So all you fill the streets it's appealing to see
You won't get out the county, 'cos you're bad and free
You've got a new horizon, it's ephemeral style
A melancholy town where we never smile



6. This Velvet Glove - Red Hot Chili Peppers

Its such a waste to be wasted
In the first place
I want to taste the taste of
Being face to face with common grace
To meditate on the warmest dream
And when I walk alone I listen
To our secret theme

Your solar eyes are like
Nothing I have ever seen
Somebody close
That can see right through
Ill take a fall and you know
That I'll do anything
I will for you



7. Closer - Nine Inch Nails

I wanna fuck you like an animal
I wanna feel you from the inside
I wanna fuck you like an animal
My whole existence is flawed
You got me closer to God

You can have my isolation...
You can have the hate that it brings
You can have my absence of faith...
You can have my everything



8. Strange Glue - Catatonia

When faced with my demons
I clothe them and feed them
And I smile, yes I smile
As they're taking me over
And if I cannot sleep for the secrets I keep
It's the price I'm willing to meet
The end of the night never comes too quickly for me



9. Pain - Three Days Grace

Anger and agony
Are better than misery
Trust me I've got a plan
When the lights go off you will understand

Pain, without love
Pain, I can't get enough
Pain, I like rough
'Cause I'd rather feel pain than nothing at all



10. Sleeping With Ghosts - Placebo

The sea's evaporated
Though it comes as no surprise
These clouds we're seeing
They're explosions in the sky
It seems it's written
But we can't read between the line

This one world vision
Turns us in to compromise
What good's religion
When it's each other we despise



11. Anything For You - Evanescence

I'll believe all your lies
Just pretend you love me
Make believe, close your eyes
I'll be anything for you

Nothing left to make me feel anymore
There's only you and everyday I need more
If you want me, come and find me
I'll do anything you say just tell me



12. Bug Eyes - Dredg

Your journey back to birth
It's haunting you, it's haunting you
Your departure from the earth,
It's haunting you, it's haunting you

Only those who accept
Will find that acceptance in return
When you've been trimmed by like edges
Thrown just aside, and wilt
And spit at each other from a distance
With constant resistance from you



13. Gone With The Sin - H.I.M.

I love your skin oh so white
I love your touch cold as ice
And I love every single tear you cry
I just love the way you're losing your life

Oh my baby, how beautiful you are
Oh my darling, completely torn apart



14. Prove - Fuel

I know I'm going nowhere
Everything I hoped to be and feel
Is in those lies you're telling somewhere

Lay me down for a while
Maybe you can tell me why
All my dreams you so defiled
And prove to me
You're something like human



15. Black Black Heart - David Usher

Something ugly this way comes
Through my fingers sliding inside
All these blessings all these burns
I'm godless underneath your cover
Search for pleasure search for pain
In this world now I am undying

As I begin to lose my grip
On these realities you're sending
Taste your mind and taste your sex
I'm naked underneath your cover
Covers lie and we will bend and borrow
With the coming sign
The tide will take the sea will rise and time will rape



16. Always - Saliva

Am I your one and only desire?
Am I the reason you breathe
Or am I the reason you cry?
Always, always, always, always, always, always...
I just can't live without you

I love you, I hate you
I can't get around you
I breathe you, I taste you
I can't live without you



17. You're Not Here - Melissa Williamson

So now what should I do
I'm strung out, addicted to you
My body it aches, now that you're gone
My supply fell through